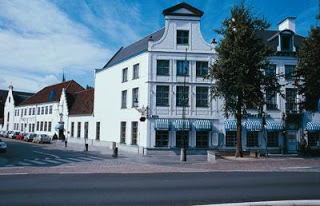 Conference Centre, NH Hotel, Brugge
Are young people still interested in politics? Is there indeed an all-out decline of social participation among young people, or do we fail to understand the way a new generation of citizens tries to make sense of current social trends? Can we still assume that civic education strengthens the political socialization of adolescents, and if so, what kind of educational practices are most successful? These and others are the questions that are central in this two day international conference in the marvelous historical city of Bruges on 3-4 July 2008.
Market place of Bruges (Picture: Jan Darthet)
The conference brings together perspectives from political science, sociology, communication studies, educational science and other disciplines. The conference is centered on nine workshop sessions, assembling state of the art scientific research, in universities and institutes of Europe, America and Australia. It is organized by the
'Comparative Youth Survey'
project, at the Catholic University of Leuven, in co-operation with McGill University (Montreal) and Babes-Bolyai University (Cluj-Napoca, Romania). The project is funded by the Flemish Fund for Scientific Research and the University of Leuven Research Council. (Look at the provisional official program
here
)
¿Está la gente joven todavía interesada en la política? ¿Es verdad que hay un descenso general de la participación social entre la gente joven, o no conseguimos entender la manera en la que una nueva generación de ciudadanos intenta dar sentido a las actuales tendencias sociales? ¿Podemos todavía asumir que la educación cívica refuerza la socialización política de los adolescentes, y si es así, qué clase de prácticas educativas tienen más éxito? Estas y otras son las preguntas centrales en la Conferencia Internacional de dos días en la maravillosa ciudad histórica de Brujas los días 3-4 de julio de 2008, con el mencionado título.

Canales de Brujas (Foto Jan Darthet)
La conferencia reúne perspectivas de la ciencia política, la sociología, los estudios de la comunicación, la ciencia educativa y de otras disciplinas. La conferencia se centra en nueve sesiones de taller, recopilando la actualidad de la investigación científica, en universidades e institutos de Europa, América y Australia. Está organizada por el proyecto
'Comparative Youth Survey'
en la Universidad Católica de Lovaina, en cooperación con la Universidad de McGill (Montreal) y la Universidad Babes-Bolyai (Cluj-Napoca, Rumanía). El proyecto es financiado por el Fondo Flamenco para la Investigación Científica y el Consejo de Investigación de la Universidad de Lovaina. (Mira en el programa oficial provisional, en inglés,
aquí
)