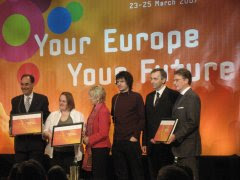 «¡Escuchad nuestra voz primero, preguntadnos qué necesitamos y actuad después!» es el veredicto de los jóvenes de Europa tras la primera Cumbre de la Juventud.
La Declaración de la Juventud reunida en Roma, que fue aprobada el domingo 25 de marzo por más de 200 delegados procedentes de los 27 países de la Unión, no se limita a reflejar una visión de la Europa del mañana.
Un extracto:

Non-formal education

Non-formal education is of paramount importance to society in the EU. It must be recognised by institutions through curricula and by wider society as complimentary of formal education.

The EU must guarantee an increased budget for funding NGOs as the primary providers of non-formal education and the promoters of civic participation, human rights and democracy.