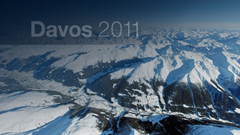 "One new reality is global interconnectivity and the fact that all challenges must be addressed on the basis of "togetherness". Thus the most crucial factor in accepting the new reality and confronting its opportunities and risks is our willingness to develop shared norms on all levels. Without such shared norms our reform efforts will remain at best piecemeal and at worst simply lip-service. Shared norms require principles and values. Here again, we should not look to old-world recipes since unfettered capitalism and state-directed collectivism have both been bankrupted as guiding ideologies", said Mr. Klaus Schwab, Founder and Chairman of the WEF.
According to the WEF, the aim of the Annual Meeting is to provide "a rethinking of our systems and exploration of strategies and solutions that have positive transformational implications. Particular emphasis will be placed on addressing the question of «How», going beyond analysis and elaborating innovative ideas and solutions to key global challenges."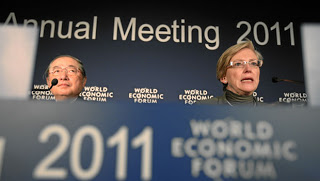 Here is what some business leaders said about the issue:
Chanda Kochhar, Managing Director and Chief Executive Officer of ICICI Bank, India, and Annual Meeting 2011 Co-Chair: . "This is a more volatile world. We have to get used to managing businesses and country policies taking into account the higher volatility." The world, she observed, "is becoming a dual-speed economy," with emerging markets growing faster than developed countries. "This rebalancing is throwing up a new set of opportunities for everybody. We must understand these opportunities so we can capitalize on them."
Yorihiko Kojima, Co-Chair of the Meeting, and Chairman of the Board of Mitsubishi Corporation of Japan: "Many things separate us but we have to unite as global citizens to address issues that are important not only for now but for generations to come."
Ellen Kullman, Co-Chair of the Meeting and Chair of the Board and Chief Executive Officer of DuPont, USA: The population of the world will surpass 7 billion people this year, noted Annual Meeting 2011. "We are going to need to work together across national boundaries to get the right answers" to global challenges.
Jacob Wallenberg, Chairman of Investor, Sweden, and also an Annual Meeting 2011 Co-Chair, agreed: "We need to see more collaboration, more dialogue between stakeholders, which is what Davos is all about."
Wei Jiafu, Annual Meeting 2011 Co-Chair and Group President and Chief Executive Officer of China Ocean Shipping Group Co., People's Republic of China: "If we get [the shared norms] right, we can create a new reality and avoid the failures of the old governance systems."
Participation in the World Economic Forum Annual Meeting is by invitation only and limited to Chief executives of the world's leading global businesses, representing the Forum's 1,000 Member companies; Politicians from the G20 and other key countries; the heads of all major international organizations; the chairs of the 72 Global Agenda Councils, representing a network of over 1,200 experts; Representatives from civil society stakeholder groups; Media leaders representing the top news organizations from around the world; Young Global Leaders; Social Entrepreneurs; Technology Pioneers; Spiritual and cultural leaders.
We are looking for a positive outcome of the Meeting, because otherwise "without such shared norms our reform efforts will remain at best piecemeal and at worst simply lip-service" as Mr. Klaus said.
We will see…